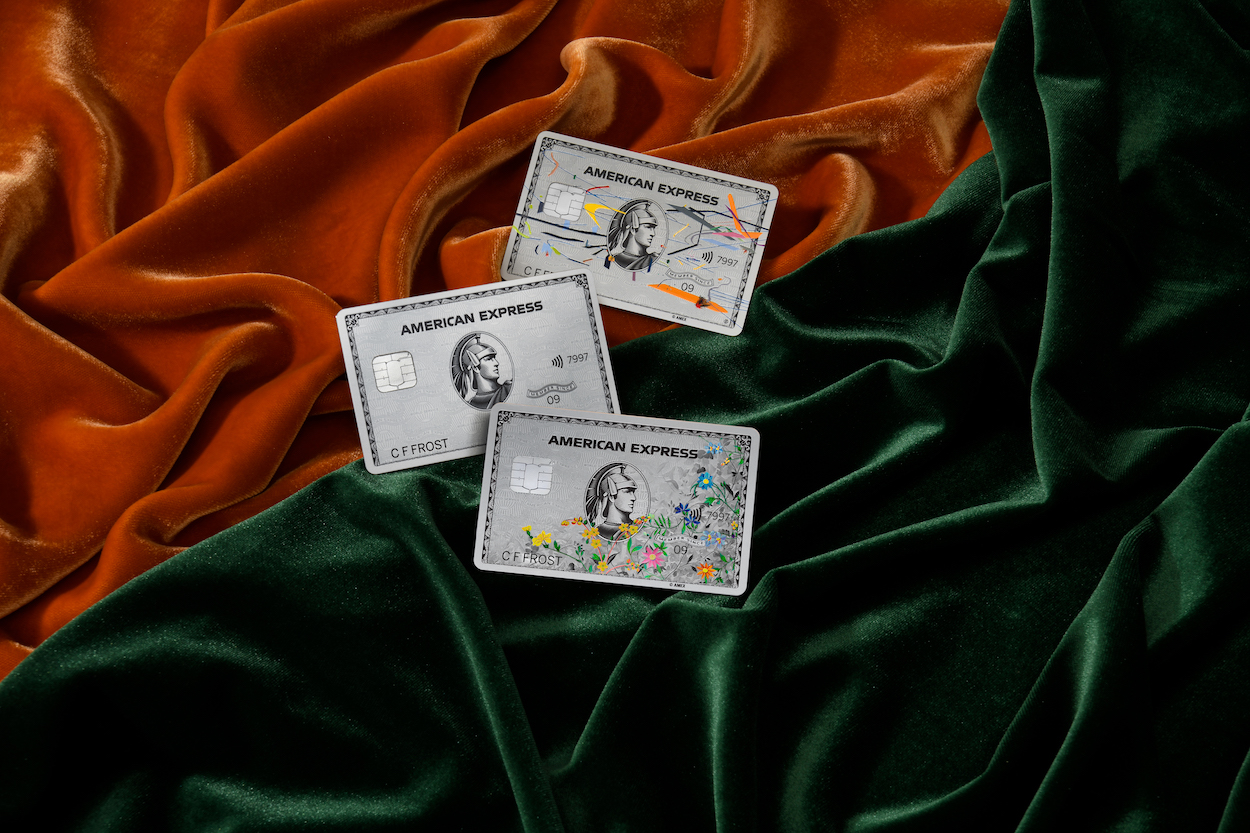 Julie Mehretu and Kehinde Wiley remake AmEx Platinum cards and other news – SURFACE
DESIGN SEND
Our daily view of the world through the prism of design.
BY EDITORS
January 20, 2022
The Design Dispatch offers essential, expert-written news from the design world, curated by our dedicated team. Think of it as your cheat sheet for the day in the design delivered to your inbox before you've had your coffee. Subscribe now.
Got something our readers need to see? Submit it here
Julie Mehretu and Kehinde Wiley Remake AmEx Platinum Cards
Last month at Art Basel Miami Beach, American Express unveiled two newly redesigned AmEx US Platinum cards by Julie Mehretu and Kehinde Wiley. Creating the maxim that no canvas is too small, the cards are adorned with elements that are characteristic of each artist, from the deeply profound talismanic abstractions of Mehretu to the sublime patterns of Wiley that lend a sense of heroism to the subjects of his lush portraits. . Both cards are available to new and existing American Express Platinum Cardmembers starting today.
In the early 2000s, Mehretu and Wiley both participated in the Studio Museum in Harlem's prestigious Artist-in-Residence program. They have since pursued illustrious careers; the former became one of today's foremost abstract painters, while the latter is perhaps best known for painting the official presidential portrait of Barack Obama. To celebrate both the rollout of the Platinum Card and the Studio Museum's ongoing commitment to uplifting artists of African descent, American Express will donate $1 million to support museum programs.
Moët Hennessy's shimmering new office at Le Bon Marché epitomizes Parisian elegance.
Located on one of the upper floors of the whimsical Parisian shopping destination Le Bon Marché, is the glittering new office of Moët Hennessy. Designed by French-Italian firm Barbarito Bancel Architectes, the well-appointed interior pays homage to the building's original Art Deco details while gracefully juxtaposing them with opulent contemporary flourishes such as brass lighting and blond wood partitions that help diffuse natural light. Bespoke workspaces, reception areas and meeting rooms spread across the office's 104,000 square feet, which have been adapted to pandemic-induced flexible working habits.
Bill Gates plans to build a major nuclear reactor in a sleepy town in Wyoming.
The town of Kemmerer, Wyoming has remained virtually unchanged since the 1990s, with a population of just under 3,000. This could change in the next few years thanks to TerraPower, a company founded by Bill Gates and specialized in non-traditional nuclear energy. TerraPower aims to build a sodium-cooled reactor nuclear reactor by 2028, attracting workers from a local coal-fired power plant that is due to close soon. The news comes as more US states have begun adopting nuclear power as a clean alternative to coal, oil and natural gas to help reduce greenhouse gas emissions. The project, which will cost up to $4 billion to build, could generate up to 500 megawatts at peak capacity, enough to power 500,000 homes.
One Wall Street shows how New York offices can be converted into housing.
A Wall Street, a grand Art Deco skyscraper that once housed the Irving Trust headquarters in Lower Manhattan, has been vacant for nearly a decade. Macklowe Properties purchased the 50-story building in 2014 and hired Robert AM Stern Architects and SLCE Architects to transform it into a luxury condominium, but the project took on new meaning thanks to pandemic-induced job changes. It shows how adaptive reuse can transform New York's underutilized office buildings (only 28% of office workers in the city have returned to in-person work) to help solve the housing crisis. write for fast business, Elissaveta M. Brandon argues that the bigger question is "figuring out how to turn these buildings into affordable housing that just won't serve the elite."
A 'fun poo' snow installation gone wrong can land a Russian artist in jail.
After residents of St. Petersburg criticized the authorities for not cleaning up the city's snow-covered streets, Ivan Volkov decided to take matters into his own hands. The artist and a friend have created an installation representing a huge shit sitting in a puddle of urine on the snow at Marsovo Pole (Field of Mars) as a cheeky take on the city's poor maintenance. Authorities arrested the two pranksters earlier this week and have opened a criminal investigation based on a law that prohibits anyone from desecrating corpses or their gravesites. Although the square is known for its blooming lilacs in the spring, it was a burial place for Bolshevik victims of the October Revolution and the Russian Civil War during Soviet times. If convicted, both men face up to five years in prison if authorities determine the facility was fueled by political or ideological motives.
The late billionaire Sheldon Solow's secret art collection will finally be on public display.
Sheldon Solow's $500 million art collection has long been on display behind closed doors on the ground floor of an office building in Midtown Manhattan. That will change next year, when the late developer's family open the Solow Art and Architecture Gallery after a refurbishment and expansion of the space, which will finally open its doors after nearly 20 years. "I'm proud to say that we will be displaying the artwork to the public once our renovation is complete," Hayden Soloviev, one of Solow's grandsons, told the New York Post. Solow's top-notch collection includes works by Henri Matisse, Jean-Michel Basquiat, Joan Miró, Alberto Giacometti, and Francis Bacon, among others.
LVMH Luxury Ventures has taken a minority stake in the New York brand Aimé Leon Dore.
The branch of the French conglomerate which invests in small creative brands has taken a minority stake in Aimé Léon Doré. Founded by Teddy Santis in 2014, the New York brand has become cult with preppy-influenced designs such as tailored rugby shirts and trousers alongside streetwear staples like graphic tees and hoodies. The brand's distinct approach to "high urban Americana" – a nod to '90s hip-hop stars like Nas and the WuTang Clan who wore oversized Tommy Hilfiger pieces – gained traction, and New Balance even named Santis creative director of the "Made in the USA" brand last year. The brand will continue to operate independently from its New York office while benefiting from the guidance and support of LVMH.
Today's attractive distractions:
Now is your chance to live rent-free in an idyllic setting renovated house in Sicily.
TOMM¥ €A$H prepares the "Loafa" at the Camaleonda bread sofa for Ikea.
Have you ever wondered how scaled emojis pile up against each other?
Klaus Pichler looks at the destruction of GMOs petunias.